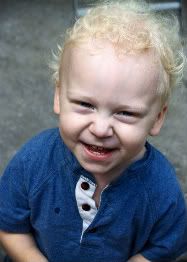 Please help this baby? Read about it here:
http://www.manicmother.com/2009/05/please-help-my-family-kick-cancers-ass.html
Saturday, May 23, 2009
I don't even know where to start this post…its going to be hard to write, as I am already choking back tears and haven't finished the first sentence. I am taking some hours away from the hospital, to write this and to try to clear my head.
As many of you know my youngest son was diagnosed with acute lymphoblastic leukemia (ALL) 2 days ago, the day my world fell out from under me.